REVIEW
The World on a String / In a Mellow Tone
Review by Johnny Baier from July/August 2010 ALL FRETS / The Official Publication Of The Fretted Instrument Guild of America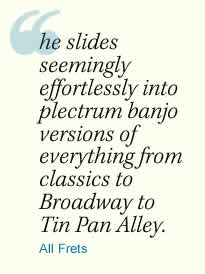 For the uninitiated, Doug Mattocks is one of the most versatile musicians and entertainers working today. He is a masterful musician on the tenor, plectrum and five-string banjos as well as the guitar. Stylistically, he is equally at ease with music and playing techniques which span more than a century, varying greatly as American popular music itself has evolved. As with many aspects of his career, this new two CD project, while innovative, requires a word of introduction.

As an entertainer aboard the cruise ships of the Holland America line for 13 years, one of the most often repeated requests made of Mattocks was for a CD of the show he had just performed.

As his performance material varied between banjo and guitar, to fulfill those requests, Doug produced the project reviewed here ...hold the package one way and it appears to be a typical banjo CD package, turn it over and it becomes a guitar CD. Whichever CD you listen to first, a constant throughout all the material is the highest quality in both the audio recording and the musicianship of the performers.

While Mattocks' North Carolina roots are evident with his extremely fine old time frailing and bluegrass styles on the five-string banjo, he slides seemingly effortlessly into plectrum banjo versions of everything from classics to Broadway to Tin Pan Alley.

The guitar CD should be of particular interest to four-string banjo players as Mattocks presents a jazzy program employing the tuning invented by guitarist Carl Kress. As the guitar became popular in dance bands of the 1930s, former banjo players became guitar players, but Kress made the transition in his own unique fashion by tuning the top four strings of a six string guitar like a plectrum banjo and the bottom four strings in the same intervals as tenor banjo (Bb, F, C, G, B, D). This tuning lends itself perfectly to a chord melody style of solo jazz guitar which Mattocks has a complete mastery of.

The unique sound of this tuning sounds like no other guitar, and Doug's reverent and accurate recreations of Kress originals and other jazz standards are wonderful.

Both CDs are marvelous listening and present a true representation of the musical complexity which is Doug Mattocks. You can order the CD here.