Doug has a 2CD recording called The World on a String (includes The World on a String and In a Mellow Tone) for $20 including postage and handling.
REVIEW of the CD set by Johnny Baier / Editor of All Frets Magazine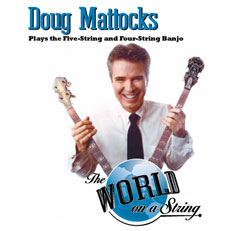 The World on a String
The World on a String is a solo show that I wrote and have been performing for more than 13 years as a headliner in the main showrooms of Holland America Line's cruise ships. It's basically a tour of the banjo—both the instrument and the playing styles—and the banjo's place in American musical history. The World on a String is also a story about my love of the instrument, the musicians that have influenced me, and the development of the Doug Mattocks—style of banjo playing.
So in response to the numerous requests I've received from fans over the years, here is (finally) the music from the show, just like I play it live. I dedicate this album to my mentor and great friend, St. Louis banjo player John Becker.
I play a 1994 Gibson Granada five-string banjo that has been modified by my good friend Rick Shubb, inventor of Shubb Capos, so that I can play the strumming style of the four-string banjo and the picking style of the five-string banjo, all on the same instrument.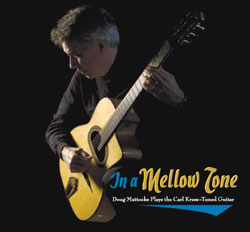 In a Mellow Tone
Like most of the guitarists playing in dance bands or studio rhythm sections in the 1930s, Carl Kress started out playing a four-string banjo. But when he made the switch to guitar, he did it in a truly innovative way. His unorthodox tunings created a unique sound that is both percussive and mellow. Although some might now consider his chord style of soloing outdated, I just love it. It's the reason I'm one of only a handful of musicians in the world today playing the Carl Kress–tuned guitar. And it's the reason I made this recording.
In a Mellow Tone features my arrangements of my favorite Carl Kress compositions, along with those of other musical pioneers with their own unique chordal style—Eddie Lang, George M. Smith, and Heitor Villa-Lobos. To round out the musical selections, I've also included arrangements of tunes I think are particularly suited to the Carl Kress–tuned guitar. I dedicate this CD to Carl and the other musical pioneers featured here. I hope I've done them justice.
My guitar is a D-hole Maccaferri replica made in 2000 by John Kinnard for Dell'Arte Instruments. In case you're wondering, the Carl Kress tuning goes like this (low to high): Bb, F, C, G, B, D.
The 2CD set is just $20 including postage and handling ($23 USD outside of U.S.)